Rising coronavirus cases have caused 61% of Americans to change their Thanksgiving plans: poll
9% of Americans won't celebrate Thanksgiving at all during coronavirus: poll
Americans are changing Thanksgiving plans due to rising COVID-19 cases, a new report claims.
According to a recent poll by Axios-Ipsos, 61% of American adults said they changed their holiday plans due to spiking coronavirus cases.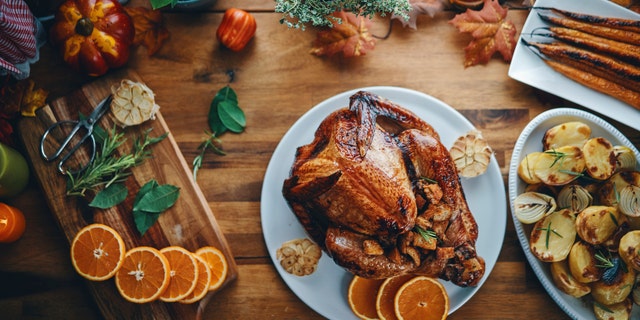 The majority of Americans polled said they would spend Thanksgiving with only immediate household members or downsize gatherings altogether. The findings of the survey, which polled 1,002 adults over 18 years old between Nov. 20 and 23, were released Tuesday.
What's more, 24% reported planning a smaller feast than initially planned, 12% said they would no longer be traveling and 9% won't celebrate at all, the findings show.
GATHERING FOR THANKSGIVING AMID CORONAVIRUS WORTH THE RISK, 1 IN 3 PARENTS SAY
The Centers for Disease Control and Prevention (CDC) last week cautioned against traveling to see friends and family during Thanksgiving and advised those especially experiencing potential COVID-19 or other flu-like symptoms to stay home.
FOLLOW US ON FACEBOOK FOR MORE FOX LIFESTYLE NEWS
The CDC also suggests Americans consider family members who may have severe illness before confirming holiday dinner plans. The agency also urges consumers to check if community spread is high in the area families intend to celebrate in.
CLICK HERE TO GET THE FOX NEWS APP
Still, some Americans report they are willing to take a risk to some extent to reunite with loved ones. A separate survey of 1,443 parents by C.S. Mott Children's Hospital National Poll on Children's Health found that of those who plan to celebrate, 88% of parents said they'd ask family members to not attend if they are experiencing COVID-19 symptoms or if they believe they have been exposed to someone with the virus. And 64% said they won't invite guests if they believe they have not been safeguarding against the spread by wearing masks or social distancing.
Fox News' Madeline Farber contributed to this report.